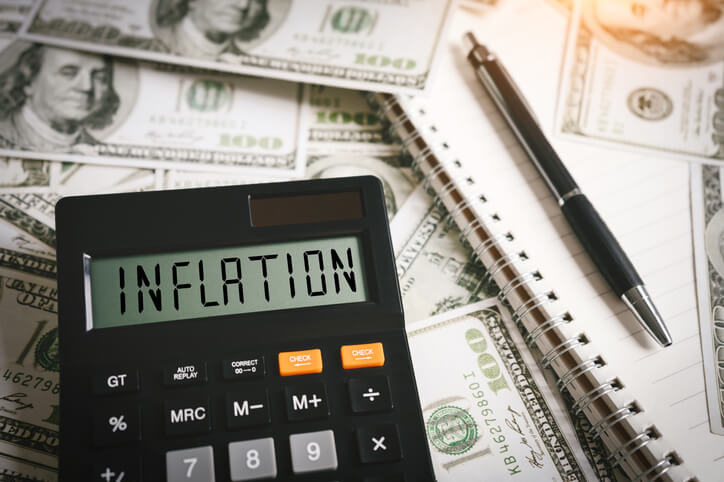 Inflation is painfully high, as you've no doubt noticed. Gas prices are finally falling, but groceries and other goods and services such as rent and utilities keep going up. Even the cost of staying healthy is up 4.8 percent during 2022. Healthcare prices historically outpace prices in the rest of the economy – inflation currently stands at 8.3%.

This is not good news.

Studies indicate that healthcare costs may continue to rise through 2023 and perhaps even beyond.They are generally set in advance, "either administratively for government programs such as Medicare and Medicaid, or through contracts between providers and insurers, with many contracts tied to the calendar year," according to a study by KFF,  a nonprofit organization focusing on national health issues. KFF noted that their review of preliminary ACA Marketplace insurer rate filings for 2023 showed a median premium increase of 10%.

Being proactive about managing your healthcare costs is the smart thing to do right now. If you're on Medicare Advantage, check the information you receive about renewing your plan; you should receive it in September. Check premium prices and any other changes, and verify that your doctors and prescriptions are still included in your coverage. Do the same for any private insurance or ACA coverage you may have.

Another essential tool in your inflation-fighting arsenal should be a dental savings plan.
Reduce the cost of healthcare with a dental savings plan
Dental savings plans are an alternative to traditional dental insurance. Plan members of dental savings plans can save 10-60% on the cost of their dental care from a nationwide network of more than 140,000 participating dentists.
Here's an example of savings you can get with a dental savings plan*:
| Procedure Description | ADA Code | Price Without Plan1 | Price With Plan2 | Sample Savings Percentage |
| --- | --- | --- | --- | --- |
| Single Crown - Porcelain on High Noble Metal | D2750 | $1149.00 | $499.00 | 57% |
| Root Canal Treatment - Front Tooth | D3310 | $840.00 | $310.00 | 63% |
| Full Upper Denture | D5110 | $1500.00 | $625.00 | 58% |
| Full Lower Denture | D5120 | $1479.00 | $625.00 | 58% |
| Single Tooth Removal - Simple Extraction | D7140 | $175.00 | $70.00 | 60% |
| Extraction - Impacted Wisdom Tooth (Soft Tissue) | D7220 | $275.00 | $125.00 | 55% |

Given that dentists want to help make treatments more affordable, you may wonder why prices of healthcare, including dental treatment, are rising. Inflation is increasing the cost of running a business, which is no different for a dental practice.
Traditional dental insurance can help you reduce the cost of dental care and can be a great choice if you have excellent oral health, as it focuses on making preventive care very affordable. Dental savings plans offer unique advantages, especially for those who don't have perfect dental health and need restorative care to regain our health and confidence.
One important thing to know is that dental savings plans have no annual limits on how often you can use a dental plan to save. Many insurance plans max out at $1,000-$1,500 annually. That may sound like a lot, but considering that the average cost for a root canal and dental crown is around $1500, you realize that you can exhaust your annual dental allowance fairly quickly.
Additionally, with a dental savings plan, you don't have to wait months to qualify for reduced-cost dental care, even for the most expensive treatments. There are no restrictions on obtaining care for dental problems you already have, such as broken or missing teeth.
Many dental savings plans also provide savings on treatments that traditional dental insurance doesn't cover, such as cosmetic whitening treatments.
Dental savings plans – discounts on much more than dental
Many dental savings plans include additional savings on other essential healthcare services – at no extra cost to you. These typically include savings on vision services, glasses and contact lenses, even LASIK surgery. Hearing care services are often included too, from testing to discounts on hearing aids – even the batteries you need to keep your hearing aid working.
Select plans include even more opportunities to cut costs, with discounts on prescriptions, fitness programs, chiropractic care, and even telemedicine – you can get 24/7 access to a nationwide network of U.S. licensed physicians for consultations via telephone and online video at no extra cost. Physicians discuss symptoms, recommend treatment options, diagnose many common conditions, and prescribe medication when appropriate. That's a huge saving alone, in money and time.
If you're looking for a way to reduce essential healthcare costs, consider joining a dental savings plan today. If you'd like to learn more, you can reach out to us at 1-833-735-0399 or read more about how dental savings plans work.
*Sample savings from a Solstice Plus Plan One dental savings plan, in zip code 33135 (Miami, FL). The sample table shown above is a small selection of common procedures discounted by the Solstice Plus Plan One. Members are provided with a complete fee schedule with discounted fees for nearly every dental procedure. Savings and costs vary according to plan selected and location. The ["Price Without Plan"] is determined by DentalPlans.com, Inc., using benchmark data from FAIR Health, Inc. FAIR Health data is used under license. Please review the savings information for any plan you are considering purchasing.