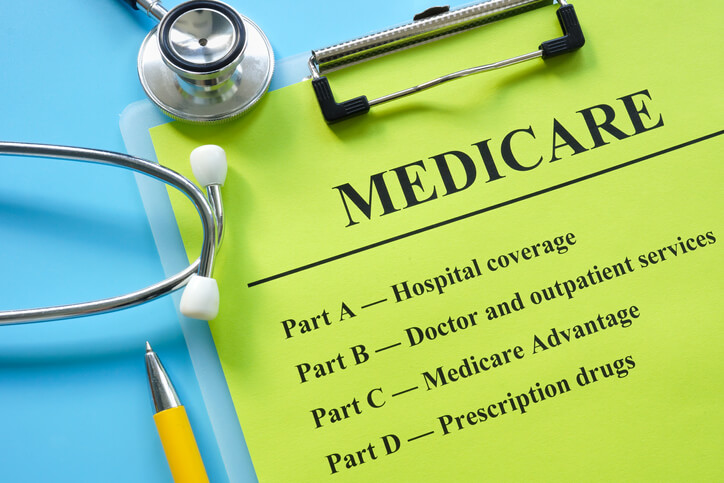 Your senior years bring a new world of responsibilities to handle, including enrolling for Medicare. Navigating how and when to apply for Medicare can be challenging, especially considering all the coverage conditions, requirements, and other fine print details. If you're planning on enrolling for Medicare, don't worry. We're here to help you understand what you need to do to get on Medicare.
How and When to Apply for Medicare
Here's how and when you can sign up for Medicare:
When to Apply for Medicare
Generally, you should apply for Part A (hospital insurance) and Part B (medical insurance) Medicare as soon as you're eligible. The enrollment period begins three months before your 65th birthday, including your birthday month, and extends three months after your birthday month, meaning you have seven months to apply for Medicare.
However, if you fail to sign up for Medicare during this seven-month window, you'll have to wait to enroll and go months uncovered. You may also have to pay a monthly penalty for as long as you have Part B; the penalty increases the longer you wait to enroll.
If you're still working and have health insurance via your employer, or if your spouse's employer covers you, you might be able to delay enrolling in Medicare. However, you'll need to follow the rules and sign up for Medicare within eight months of losing your coverage to dodge substantial penalties when you eventually enroll.
How to Apply for Medicare
You'll automatically be enrolled in Part A and Part B if you receive Social Security benefits at least four months before you become eligible for Medicare. However, if you're about to turn 65 or recently turned 65 and haven't received Social Security benefits yet, here's what you can do according to the Medicare website:
Online — Signing up via Social Security is the easiest, fastest way to apply for Medicare and get the financial aid you need. You must create a Social Security account to sign up for Medicare or apply for benefits.
Call — Call Social Security at 1-800-772-1213. Teletypewriter (TTY) users may call 1-800-325-0778.
Visit your local Social Security office — You can find your nearest location via the Social Security office locator.
Call the Railroad Retirement Board — Call the Railroad Retirement Board at 1-877-772-5772 if you or your spouse worked for a railroad company.
After you apply for Medicare, they'll send you a welcome package with your Medicare card and program details about two weeks after signing up.
What Are the Requirements for Medicare?
If you're 65 or older, you're eligible for Medicare if:
You're a United States citizen or a permanent legal resident who's lived in the U.S. for at least five years.
You're getting Social Security or railroad retirement benefits or worked long enough to receive them but have not yet secured them.
You or your partner is or was a government employee but hasn't paid into Social Security but paid Medicare payroll taxes during you or your partner's tenure.
If you're under 65, you may still qualify for Medicare if:
You've been eligible for Social Security disability for at least 24 months, which doesn't need to be consecutive.
You're eligible to collect a disability pension from the Railroad Retirement Board and meet specific criteria.
You've been diagnosed with amyotrophic lateral sclerosis (ALS) — also known as Lou Gehrig's disease. This automatically qualifies you to receive Medicare benefits.
You have permanent kidney failure that requires routine dialysis or a kidney transplant. Also, depending on your age, you or your partner must have paid Social Security taxes for a certain period.
What Preventive Services Are Covered by Medicare Part B Insurance?
Medicare Part B covers a wide range of preventive services at no cost, including:
Cardiovascular disease screenings
Diabetes screenings
Cancer screenings (lung, prostate, vaginal, cervical, and colorectal)
Bone mass measurements
Shots (COVID-19 vaccines, flu shots, hepatitis B shots, and pneumococcal shots)
Visit Medicare.gov for a complete list of preventive services.
Do I Really Need Supplemental Insurance with Medicare?
No, you don't need supplemental insurance if you're on Medicare. However, Medicare doesn't cover all costs, so getting supplemental insurance can help fill those coverage gaps and give you peace of mind when dealing with unexpected medical expenses. If you were left with a substantial medical bill without supplement insurance, you could risk being in debt and having your credit score ruined.
Consider looking into a Medigap plan. Medigap is a health insurance policy sold by private insurance companies to help cover co-pays, deductibles, coinsurance, and other remaining costs you're responsible for. Typically, you must have Medicare Part A and Part B to buy a Medigap plan. Additionally, you'll likely have to pay the monthly Medicare Part B premium and a premium to the Medigap insurance company.
More About Medicare Advantage
Another option for supplemental insurance is a Medicare Advantage plan (Part C). Medicare Advantage is similar to Medigap in that it's sold via private health insurance, but it usually offers prescription drug coverage (Part D), as well as limited dental, vision, disability services, and other plans original Medicare doesn't cover. Generally, you'll have to use a health care provider in your plan's network to reap the benefits of Medicare Advantage. Additionally, some plans don't cover dental services, so check the plan's terms and conditions before enrolling.
Organizing Your Coverage on Medicare Is Crucial
As you become a senior, it's important to organize your Medicare coverage to ensure you get the coverage you need in your golden years. While Medicare provides coverage for many services, it doesn't cover everything, including dental treatment. A Medicare Advantage plan can help fill in the gaps, but you may also want to consider another option — a dental savings plan.
An affordable alternative to dental insurance, a dental savings plan can help you save on a wide range of services, including preventive treatments, restorative care, dentures, and implants. Many dental savings plans also include savings on vision and hearing screenings, chiropractic care, prescription drugs, and more. Plus, there are no annual limits, health restrictions, or paperwork hassles.
Plan members can save 10-60% on most dental procedures with quick activation and no restrictions based on current health conditions. You can reach us at 1-833-735-0399 if you have any questions about supplementing Medicare with a dental savings plan to maintain your oral health and protect you against any unexpected costs.