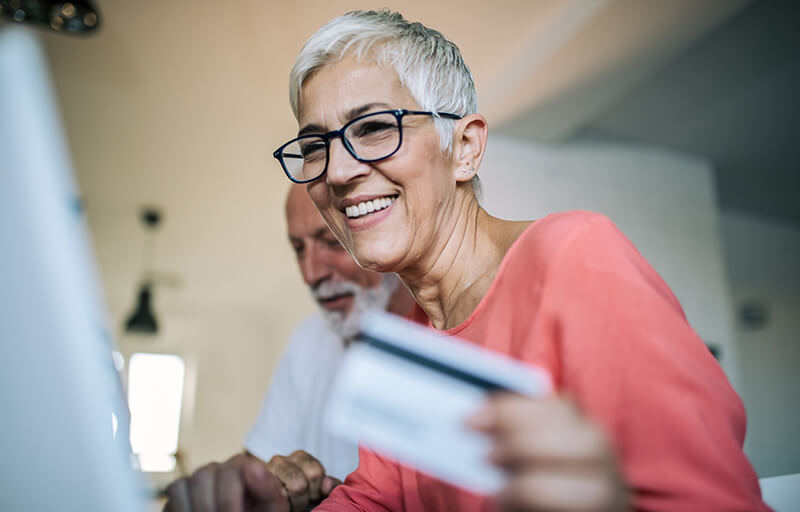 The older we get, the more we have to baby our teeth. Seniors are often faced with a myriad of dental issues – from dry mouth to dental decay – that can take a toll on your health and your smile.
The good news is that modern dentistry can keep our teeth and gums healthy throughout our lives. The bad news is that we'll probably be paying for that dental care out-of-pocket. Most of the traditional dental insurance optionsthat specifically serve seniors, like Medicare, do not cover senior dental care. Thankfully, there are solutions, such as dental savings plans, also known as dental discount plans, that can reduce the cost of dental treatment.
Medicare and Dental Insurance
Medicare does not cover dental, unless dental treatment is required as part of a medical procedure. And even then, Medicare will only cover exactly what you need medically and no more. For example, if you need a tooth extracted, Medicare will pay for the extraction but not for a replacement tooth. Or, if you need complicated oral surgery, Medicare may cover the surgical part of the procedure but will not cover the actual dental care.
Medicare does cover:
Dental exams as part of the standard medical protocol for kidney transplant or heart valve replacement procedures.

Dental treatment as required for a disease that involves your jaw (such as oral cancer)

Treatment for fracture of the jaw or (potentially) other facial bones.

Severe dental infection that requires hospitalization

Dental procedures that must be conducted in the hospital due to a life-threatening medical condition
But be aware that in many cases, Medicare will cover the costs of in-patient hospital care only, not the costs of the actual dental procedure.
Medigap and Dental Coverage
Medigap is supplementary insurance that you can purchase to cover your annual Medicare deductible and copayments/coinsurance costs. Medigap also covers health care costs when travelling outside of the U.S.
But, just like Medicare, Medigap plans only pay for dental when your dental care and medical needs intersect. And – again just like Medicare - the coverage (non-coverage, really) will typically only pay for the non-dental portions of your treatment.
For details on Medicare and Medigap coverage, you can visit Medicare's website, or call 1-800-MEDICARE (1-800-633-4227). If you are enrolled in Medicare, you can also log into your MyMedicare account.
Dental Insurance with Medicare Advantage Plans
Medicare Advantage Plans are provided by private companies that have been approved by Medicare. These plans must provide all of all of the services that Original Medicare covers except hospice care. Medicare Advantage Plans also typically include coverage for issues that Medicare does not cover, such as dental care.
You pay a monthly premium for a Medicare Advantage Plan, which varies depending on the coverage offered. You can compare Medicare Advantage plan benefits and costs here. You can check to see if the plan offers dental (as well as hearing and/or vision benefits, by looking for colored circles marked with D, H or V.
Should Seniors Purchase Dental Insurance?
You can, of course, simply purchase a dental insurance plan directly from an insurance agent. You'll likely get a better deal if you can join a group plan, so you may want to see if any of the associations you belong to offer dental insurance to members.
But before you purchase insurance, consider your dental care needs.
Dental insurance has an annual spending limit of $1000-$1500. That's the limit your plan will pay every year for your coverage. After that, you pay out-of-pocket for dental care. $1500 may seem like a lot, but if you need a single root canal and crown, you'll likely spend your maximum on getting those two treatments alone. And you'll quickly exceed your insurance coverage if you need a bridge, dental implants or dentures.
Plus, there's a waiting period before your coverage kicks in for the pricier dental procedures, so you'll be covered only for things like checkups, cavity fillings, and the most basic restorative care for 6 months to a year after joining a dental insurance plan. And most plans will never cover treatment for dental issues that you had prior to purchasing the plan.
When you factor in all the restrictions and the waiting period, you may decide that dental insurance isn't the best choice for you. In fact, financial experts like Suze Orman suggest that seniors skip purchasing dental insurance and instead join a dental discount plan.
Dental Discount Plans Vs Dental Insurance For Seniors
Dental discount plans, also known as dental savings plans, are the affordable alternative to dental insurance.
Plan members pay a low annual membership fee for access to an extensive network of participating dentists and dental specialists that provide discounts – 10%-60% - on dental care. Dental discount plans do not have deductibles, waiting periods, paperwork hassles or annual spending limits. And you can save on treatment for dental troubles that you had before joining a plan.
Dental discount plans are easy to use. You simply pay the discounted fee to the dentist whenever you get treatment. You can use your plan as often as you wish. And many of the plans on dentalplans.com include, at no extra costs, savings on health and wellness services such as vision and hearing care, and discounts on prescription medications. Select plans offer savings on telemedicine, diagnostic tests, and fitness programs.
Everyone qualifies for a dental discount plan. There are no age or health restrictions. You can find out more about dental discount plans at dentalplans.com, or by calling 1-800-238-5163.