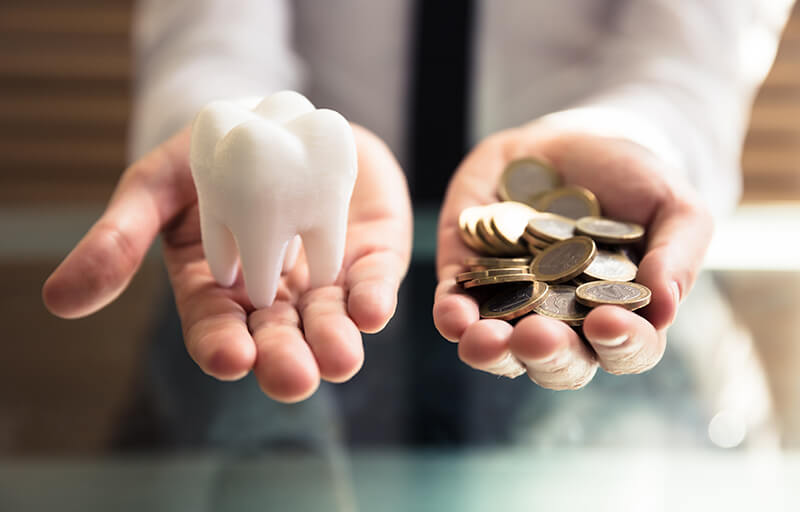 How Much Does A Dental Savings Plan Cost?
Dental savings plans, the affordable alternative to dental insurance, have been in the news lately. You may have heard that they can save you 10-60% on your dental bills, that there's no limit on how often you can use them, and no restrictions on getting treatment for existing conditions.
And you're probably wondering how much a dental savings plan costs – what do you have to pay to get all of those advantages?
Get ready for the good news: Dental savings plans are amazingly affordable.
The dental discount plans available on DentalPlans.com range from $79.95-$199.95 annually. Compare those prices to the typical cost of an individual dental insurance policy is around $350 a year. For a family, the cost of dental insurance is around $550, annually compared to about $250 for a dental savings plan.
Dental Savings Plans Vs Dental Insurance
Dental insurance can be a good choice if your employer provides it as a free benefit, or if you want to basically "pre-pay" for basic dental care. After all, if you pay out of pocket for two checkups and cleanings and a set of X-rays, your cost, on average, will be around $375-$400, according to the American Dental Association.
So, with a dental policy, you're basically pre-paying for your essential preventive care, and if you need a couple of fillings, or chip a tooth, you're also covered. Plus, some dental insurance providers negotiate lower costs for dental services with their in-network providers, so you do save on the overall cost of dental care.
But it's important to remember that dental insurance policies typically cap coverage at $1000 -$1,500 a year. When your dental costs for most procedures go over that limit, you then have to pay for your dental care for the rest of the year. Given that the average cost for a crown is $750-1200, and the cost of a single implant starts at $1500, you can exhaust your annual dental allowance fairly quickly.
Most dental insurance plans are also likely to have a "deductible," an amount that you will have to pay out of pocket for dental services before your insurance will begin to cover their portion of the costs – typically $50 for an individual annually, and $150 for a family.
Dental insurance typically imposes restrictions on covering costly treatments and pre-existing conditions. With a new-to-you plan, you'll usually have to wait six months for basic restorative services or a year for major restorative services. And dental insurance often will not pay to restore teeth that were missing before you purchased the policy; any may not play for work that was underway prior to the policy going into effect.
How Do Dental Savings Plans Work?
Dental savings plans offer discounts of 10%-60% on average dental care rates, for members who pay an annual fee. Dental savings plans have no annual caps, no waiting period is applied for accessing care, and there are no restrictions on obtaining care for preexisting conditions.
Plus, many the plans on dentalplans.com include additional free bonus benefits too, such as savings on vision and hearing care, prescriptions, and other wellness services. Select plans include a bundle of health and wellness services which range from telemedicine –free consultations with local doctors who can diagnose and treat common ailments (including prescribing medications), discounts on chiropractic, alternative medicine and fitness centers, and savings on lab work and medical diagnostic services.
As a plan member, you have access to a network of dentists who have agreed to offer reduced rates to members. Some plans focus on statewide networks; while many plans have thousands of dentists participating nationwide. There's a plan for every budget and dental care need, whether you want to save on braces or root canals, dental implants or dentures, basic care or complex treatments.
Dentists like the plans because they don't have to deal with insurance company red tape, plan members simply pay the reduced fee directly to the dentist. Everyone wins.
To find out more about this affordable alternative to dental insurance,, visit our website.