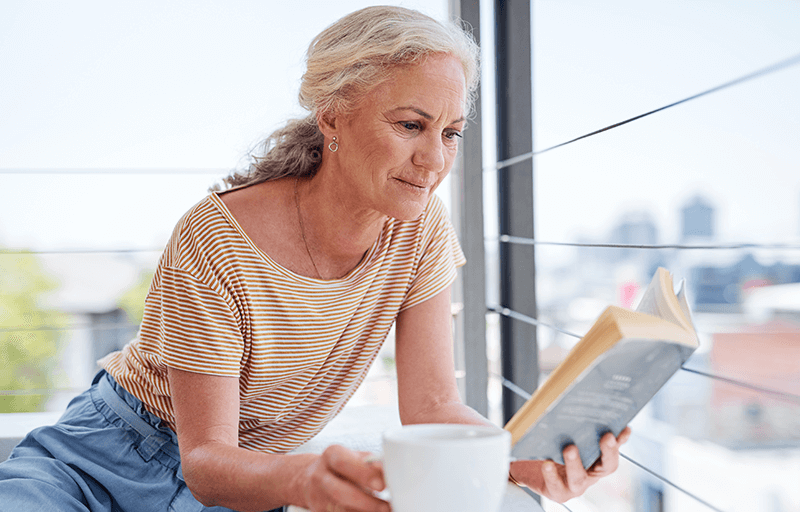 Be Active:
The internet is now your exercise class, with thousands of workout videos to explore. You might want to check out Chair Yoga, which helps with flexibility and balance and is super easy to do. Good places to start are verywellfit.com and yogawithadriene.com.
Make Art:
Painting, collage, sketching, sculpting, photography, even just doodling helps keep your brain healthy and boost your mood. The end result doesn't matter, just enjoy the process. If you do want to sharpen your skills, try Skill share or Udemy. Or brush up on your art history with classes from the Wondrium.
Attend a Concert Online:
Music reduces stress, and thankfully there are tons of free concerts available online. Among our favorites are the daily encore performances from the Metropolitan Opera, and the Berliner Philharmoniker series (Use the code BERLINPHIL by March 31 to get free 30-day access). You can find your own favorites on NPR's list of streaming performances.
Read a (Free) eBook:
Reading is a workout for your brain. You can download thousands of classic eBooks from Project Gutenberg and the Open Library. And, don't forget Google's library of free books featuring current titles.
Solve Puzzles:
Just like reading, doing puzzles keeps your brain in great shape. The New York Times offers logic puzzles and a mini crossword puzzle (you'll have to subscribe to solve their famous, full-size crossword puzzle). And you can download a vast amount of large-print crosswords from educational service company Q.E.T.S.
Virtually Visit a Museum:
Museums are inspiring and educational. And now you can visit most of them online. Begin your adventure on the Google Arts & Culture platform, which has partnered with 1,200 leading museums to offer virtual tours that let you experience art collections up close, with tidbits of insider info for every piece of art.